Tuning Fork Basics
June 23 @ 6:00 pm

-

8:00 pm

$25
Facilitator: Alan David Braunstein
Dating back to the 1500's tuning forks were used by the medical field
to test reflexes, hearing and for broken bones. But now we know they can be used for so much more. In this class we will learn about the different frequencies of the tuning forks and their uses. We will learn how to intuitively use the forks to do healings for yourself and others.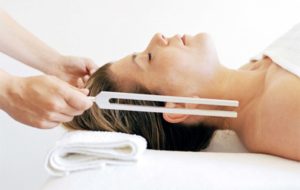 "Tuning forks are precise instruments that have the ability to change our inner tuning by creating a resonance throughout our mind, emotions, and body. They do this by creating a vortex of sound that leads us into stillpoint, which is a moment where everything seems to stop, and we can re-tune ourselves. Our nervous system, like the string of a musical instrument, vibrates to the sound of tuning forks." —A BEGINNER'S GUIDE TO SOUND HEALING WITH TUNING FORKS by John Beaulieu, ND, PhD
Alan David Braunstein is trained in Reconnective Healing Matrix Energetics and Reiki. He has been doing healing for almost 15 years and sound healing for close to 8. He has been a musician since a kid and puts that knowledge to use with the tuning forks.